It was just another visit from our son and three grandgirls.  That was way back in November.  It was prepademic you know.  And none of us had a clue about a virus that was to shut us all down and stop family visits from out of town.
We were all sitting around the kitchen table shoulder to shoulder and I remember telling them about the wonderful exotic tropical fruits that grew in my backyard when I was a little girl.  I lived in South Florida where we had avocado trees, bananas, oranges, kumquats, mangos and guavas.
We also had Sapodillas!
"What is THAT?" they asked.
"Oh, I haven't tasted a Sapodilla since I was a little girl about 70 years ago," I said.  "A Sapodilla looks exactly like a kiwi (but uglier) on the outside.  But on the inside the fruit is brownish and has the most beautiful shiny brown/black thumbnail sized seeds.  And the fruit tastes so sweet!"
All three girls sounded interested but we eventually moved on to other subjects.
Enter the Pandemic ShutDown and I haven't seen my family since.
Can you guess what the three Grandgirls got me for Mother's Day?
A beautiful box arrived in the mail and it was:
FIVE POUNDS OF SAPODILLAS!
I simply could not believe it.
"WOW!  WOW!  WOW!"  I said. "This is an amazing gift and how did they ever remember and how did they ever find it and what a precious thing that they thought of it and acted on it so many months later!"
And my first taste was like floating back back back to childhood.
There was my Dad again and I was just a little girl.  He was once more telling me not to eat the seeed and saying, "You will love this my little Gypsy.  It will taste just like honey."
And it did.  And it does.
And it was the nicest gift ever because it was a gift of memories.   I only wish the Grandgirls had been here too, so I could have introduced them the same way as my Dad did.
Now every little bite of the five pounds is gone.  And only the memories linger.
And the smiles!
Note:  You will probably never see a sapodilla in the grocery store.  At least I haven't in all my years.  The kids found them online.
Sapodilla (Sapota)
Sapodilla or sapota (chikoo) is a popular tropical fruit. Sapota is a tropical evergreen, fruit-bearing tree belongs to the family of Sapotaceae, in the genus: Manilkara. The fruit, popular as nasebrry, is a most relished tropical delicacy.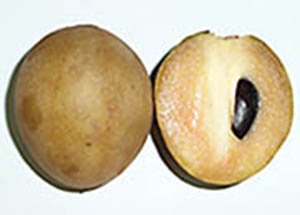 Sapota fruit cut section. Note for dark brown seed.